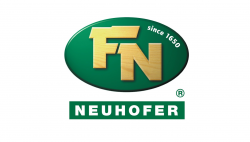 We are honored to welcome FN Neuhofer to the EDIN Family!
The family Neuhofer has now been engaged in wood processing for 10 generations for 368 years. Originating as a small timber-grinding and sawmill outfit in Zell am Moos/Austria, today FN Neuhofer ranks as a recognized supplier of profiles and accessories for floors, walls and ceilings to the international elite in their field of manufacturing.
Innovative products and state-of-the-art technology, quality and reliability, support and service and the best possible price/performance ratio – all this has led FN Neuhofer to success. In addition, Neuhofer is able to offer their customers a complete range of accessories "from a single source", sparing them the difficulty of dealing with a variety of suppliers and thereby saving valuable time. As a result of the ongoing expansion of the productions and warehouses, FN Neuhofer now possesses the capacity of a corporate group while at all times maintaining the flexibility to meet special customers' needs.
The core business of FN Neuhofer is the manufacturing and distribution of accessories for floor, wall and ceiling. There are special skirtings in hundreds of different shapes, made of solid wood, with MDF, spruce- or plastic carrier, covered with different surfaces, from décor foil (among others also produced with digital printing) to veneer up to white varnish. The further assortment contains flooring profiles made of HDF, aluminium and plastics, covered with decorative surfaces with abrasion resistance up to AC5. Numerous accessories like corners, mounting systems, installation devices, radiator rosettes etc. complete the assortment.

FN Neuhofer operates in 70 countries worldwide with an export ratio of 94 %. The company employs approx. 250 members of staff. The production capacity amounts currently 165 million r.m of profiles per year.
"Closing we want to mention, that our approach to business means that we don't just live for the day. We operate sustainably, from one generation to the next. Creating values, for today and for tomorrow. We have a clearly defined vision for the coming years: to become the market leader for profiles, while securing new markets with new product ranges. We are excited about sharing this path with our customers and partners", so the Managing Director Franz Neuhofer.
---

Edin is proud to announce that WD-40 officially joined our network. We are humbled to welcome another internationally renowned brand and industry champion among our growing pool of suppliers. We thank WD-40 for the trust they place in us and we look forward to an successful partnership.
 Company profile
WD-40 Company is a NASDAQ listed company in New York that markets high-performance products in the areas of repair and maintenance. WD-40 Company's professional products are used in more than 180 countries – in industry and trade as well as for hobby and household.
The company was founded in the 1950s as Rocket Chemical Company. After 39 tests, Normen Lawson developed a special corrosion protection agent, which he called "WD-40" (water displacement, 40th test formula). The company's development led from a small business to a global player with 448 employees and sales of 380.5 million US dollars in fiscal 2017.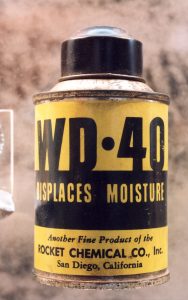 The multi use product WD-40 soon proved to be a quality product that solves the daily problems of everyday life. Once you have discovered it, you will use it again and recommend it to others. The success of the product has been based on this for decades. In addition, WD-40 products make a significant contribution to the longevity of parts, tools or machines, and the WD-40 Company makes an important contribution to the conservation of resources.
Until 1995, the WD-40 Company concentrated its worldwide efforts on just one brand: the WD-40 multifunctional product. Although the product range was extended by further product lines from the area of chemical-technical products (3-IN-ONE) and household brands ("1001" and others), WD-40 remains the core brand with international success. The recipe is well stored in the safe near the company headquarters and is known to only two people worldwide.
The WD-40 Specialist product series is also available since March 2012. It provides professional users with special solutions for the maintenance, repair and care of tools and machines. WD-40 Specialist has been designed as an optimal complement to the WD-40 multifunctional product. With the two WD-40 product lines, the WD-40 Company offers users a comprehensive range of chemical and technical services "from a single source".
Under the name WD-40® SPECIALIST® Motorbike, the company is also offering seven products in Europe since spring 2013 with which bikers can service and maintain their motorcycles throughout the year. The manufacturer is thus responding to the wish of many motorcyclists to be able to use the brand's product range, which is specially tailored to the needs of motorcycles.
Since the 2015 cycling season, the company is offering the WD-40® BIK® product series for all cyclists, whether for races, off-road tours, the way to work or leisure tours with the family; simple solutions for the maintenance and care of the bicycle. Their regular use keeps the bike in optimal condition, increases performance and saves cyclists time and money on wear-related repairs.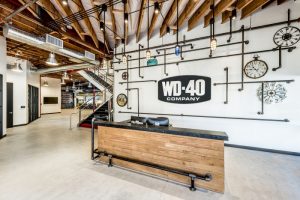 The WD-40 Company is controlled from its headquarters in San Diego, USA, with its European headquarters in the UK. The WD-40 Company branch office in Germany exists since 1995 and sells its products in the DACH region (Germany, Austria and Switzerland). In general, the company concentrates on the distribution channels of the specialist trade from industry and trade, PVH (production connection trade), motor vehicles as well as agriculture and forestry. In addition, the so-called DIY markets (do-it-yourself) are served through home improvement and DIY stores, where home craftsmen and hobbyists can also purchase the "liquid tool" WD-40.
For more information, visit: www.wd40.com