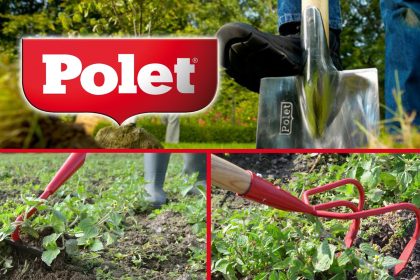 We are delighted to announce that Polet has joined EDIN. Polet is a supplier and manufacturer of hobby tools and professional tools for gardening and construction. The company introduces itself in the small text below.
---
Whether your customers are professionals or do-it-yourself enthusiasts, your sole care is to deliver quality. That certainly goes for the tools they are working with. Because quality makes them work in a more pleasant and more efficient way.
For over 150 years, Polet has been developing tools for the professional market as well as for the do-it-yourself sector. Over the years, advanced specialization and innovation have been the basic philosophy of Polet. This results in some very complete product ranges supported by highly effective commercial and logistics staff.
Belgian made tools with European dimensions.
Polet is a Belgian company and has been exporting its quality products to many countries since decades. It is therefore not astounding that foreign gardening professionals and enthusiasts regard Polet as their partner for heavy work.  
Complete product ranges for guaranteed commercial success.
Not everyone will use a tool in the same way or is willing to invest the same amount of money. This is why Polet has adapted its complete range to the real market needs. The Polet tools are distributed essentially by specialized construction material outlets and garden centers. These receive a large commercial and logistic support.  
From modest smithy to an industrial company.
More than 150 years ago, Polet forged his first shovel blades. The modest smithy has grown to become an industrial company, in which quality and innovation are both the keys to a commercial and well-balanced enterprise.
Polet products are manufactured according to the international quality standards. They undergo the strictest testing before and after production. The innovative manufacturing process provides a higher yield, which leads in turn to competitive prices on an international level.
At Polet, product development is not a vain word. It means a permanent research for customer benefits. The revolutionary glass fiber handles for example have a ten times longer life span than the traditional handles. All sectors are using Polet: the "green" gardening world as well as construction and industrial companies.
The quality of Polet leads to increased efficiency everywhere. Professionals and do-it-yourself enthusiasts highly appreciate this.  
Click here to visit the Polet website
---