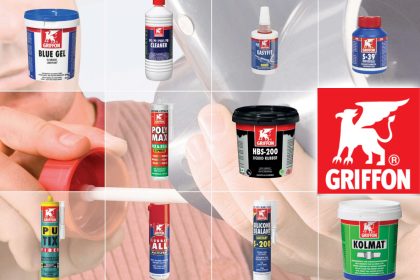 We are proud to announce that Griffon has joined EDIN!
Below is some information about the company Griffon, its history and its products.
---
Griffon is the international specialist in the field of adhesives, sealants, soldering products, lubricants and maintenance products. Griffon offers unique, high-quality product ranges aimed at providing solutions for the professional.
Back in the nineteen sixties Griffon had the patented answer to the rapidly growing demand for adhesives for plastic piping systems. In addition to PVC cements numerous complementary plumbers' products were introduced, such as lubricants, soldering and sealing products. Since then Griffon has developed into and internationally recognized specialist in the area of connection technology for plastic and metal piping systems.
As the adhesive specialist for the professional Griffon also offers a complete range of wood and construction adhesives. In the field of mounting Griffon is well known with the extensive Poly Max® range – solvent free construction adhesives of absolute top quality – recognizable by the outstanding red cartridges.
So no matter what kind of connection you wish to make; Griffon provides the best solution for the job.
With sales offices in the Netherlands, Belgium, Spain and France, and distributors in many countries across the world, Griffon has built up a strong international market position. Well-known Griffon products are UNI-100® and WDF-05® PVC Adhesives, S-39® soft soldering flux, Kolmat® sealing paste and the construction adhesive Poly Max®.
Quality
Opting for Griffon means opting for quality. In order to be able to constantly guarantee excellent quality Griffon employs a quality assurance system. This covers the entire process of incoming raw materials, production into the final product and delivery in accordance with prescribed and monitored procedures. This system has of course been ISO 9001 certified. In this way the user can be assured of a guaranteed quality level.
Product quality focused on specific applications is guaranteed by approval marks such as British Standard, CSTB, KIWA and DVGW. Furthermore, several products have a CE marking and meet EN standards. Both the product and the process quality are continuously inspected by reputable, independent inspection bodies at home and abroad.
Innovation
In addition to quality, innovation is one of Griffon's core values. Griffon is continuously looking for new and better solutions. Existing products are constantly improved so that they do not only work better, but also are more user and environmentally friendly. Through extensive research and close contact with end-users and manufacturers Griffon introduces innovative solutions for connecting problems time and again.
Bison International
Griffon is part of Bison International, worldwide supplier of high-quality adhesives and sealants for the professional and private markets. Furthermore, Bison International is also the company behind Bison, Bison Professional, Bostik (Italy), Velpon and Imedio. All of them undisputed A-brands with their own markets and segments.
Bison International has been part of the Bolton Group since 1996. Bolton Group produces and sells a series of high-quality consumer products, many of which are market leaders in their category. The portfolio contains around 40 product lines in the area of foodstuffs, detergents and cleaning products, products for personal hygiene and skin care, cosmetics and adhesives. The Bolton products are mainly sold in Western Europe but are also in a large measure present in the Middle East and Central Europe. Furthermore, the Bolton products are sold in Asia, North and South America and Australia.
---