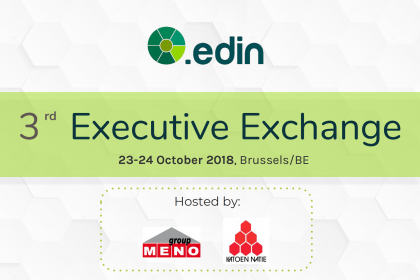 We are pleased to organize the 3rd EDIN Executive Exchange together with our partners and hosts Menouquin and Katoen Natie in Brussels from 23 October to 24 October 2018.
During two days CEOs and KDIs from industry, distribution and logistics will discuss core topics of the building materials sector and develop innovative solutions to create common added value.
Thrilling and informative keynotes will be held by
Andree Berg, Senior branch manager DIY sales + implementation at GS1
The impact of digital on standards
Dennis van Ravenstijn, Marketing Director Consumer Lightning at Signify
The Philips Hue case
Prof. Dr. Robert Rooderkerk, Associate Professor at Rotterdam School of Management
Focussing on the 'end-user'-What are the expectations towards

distributors and suppliers in the future ?
The Executive Exchange includes a visit of a warehouse of Katoen Natie, a leading international logistics service provider.
---