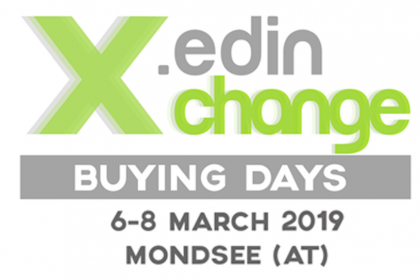 During two days suppliers get to meet a huge network of purchasers from 20 countries with 23+ billion euro in total distribution turnover in speed dating sessions. 
In an effort to shorten decision-making cycles and to make things happen on site, all our distribution members will be represented by their sourcing/purchasing executives.
On top of that, suppliers can book a booth directly in the conference area to showcase their products.
Furthermore our European Ambassadors from 12 European countries will be at your disposal for any market support you might need.
 Our new member Neuhofer Holz, which has been engaged in wood processing for 368 years, offers our participants a tour of their nearby production plant as a precursor to the X-Change days.
Apart from this, the X-Change days offer an excellent networking platform, where the participants will get inspired by the marvelous setting inside one of the oldest abbeys in Europe, framed by the picturesque winter ambiance of the Dachstein mountains.

The EDIN X-change days are a unique exchange and networking opportunity steered by the strong will to create added value for all – be part of it!
View the official programme here
If you are interested in participating at the EDIN X-Change days, contact us at: info@edin-europe.com